Engage Studio - Healthy Buildings: The Biology, Physics, and Epistemology of the new Design Process Tuesday, 22 October 2019 from 8:30 AM – 10:00 AM
Location

253C

Session Type

Learning Experience
There is a shift to demand health-related data analytics to document the existence of healthy employee experiences. During this workshop you'll learn how to integrate health into design by examining the biology, physics, and measured impacts of Healthy Buildings. The concepts of Healthy Buildings and how they can affect human biology through impacts on the respiratory, auditory, skeletal, nervous, and cardiovascular systems will be covered. Discover tools used to verify health metrics associated with light, acoustics, comfort and biophilia. Gilead will present the design and business philosophy behind their design standards that focus on the health and wellness of their employees.
Key Takeaways:
Understand how aspects of the built environment can affect our human biology through impacts on the respiratory, auditory, integumentary, skeletal, nervous, and cardiovascular systems.


Hear directly from Gilead to learn how wellness design elements can be justified through a business case and employee satisfaction.


Understand approaches and methods used to evaluate health impacts of the built environment, as well as inherent tensions between design research and biomedical/public health research, that are integral to improving and growing knowledge about designing places that promote health.


Speakers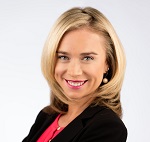 Whitney Gray, PhD
Senior Vice President, Delos Insights, Delos
Speaker

Colin Rohlfing
Vice President, Director of Sustainable Development, Chicago, HDR Inc,
Speaker

Assal Yavari
Sr. Director, Facilities & Operations, Gilead Sciences, Inc.
Speaker
Topics
Wellness, Workplace
Events Key
Invitation-only event
Ticketed event
Learning: Your Way
Learning comes in many forms. Choose from more than 120 unique Learning Experiences in new formats to fit your style and interests.
Case Studies - Real life examples of projects with opportunities to understand what went well (and what didn't).
Campfire - Smaller, more intimate facilitated conversations with peers.
Debate - Constructive, moderated debate between opposing viewpoints.
Empathy Lab - See and understand the world through the eyes of others. Foster a culture that promotes understanding, both within organizations and in the world at large.
Engage Studio - Jump in, get involved, and have fun in these hands-on learning opportunities.
Future 20 - 20-minute solo presentations highlighting new and emerging ideas.
Ignite - Fast-paced showcase of ideas that might be bold, possibly brash – but never boring
Learning Theaters - Effective, timely, topical presentations by SME's on Workplace, Wellness, Careers, and Innovation.
Roundtable Discussions - Delve into the deeper issues and focus on developing solutions, approaches, strategies, or innovative thinking.
Technology Playground - Informative technology insights and trends to keep you ahead of the curve!
Learning Experiences Sponsored by: